The Gift Of Healing Hands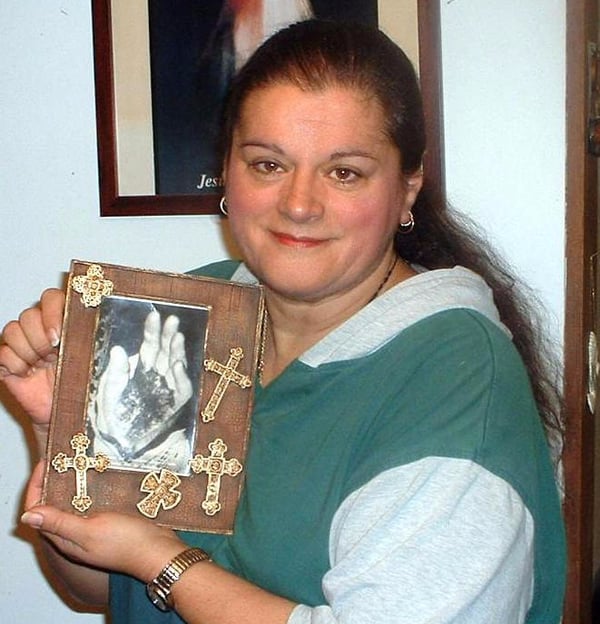 For some reason or another, Padre Pio is very present in my life. I first heard of him as a teenager. My mother had told me of this monk priest, Padre Pio, who was living in Italy and he had all kinds of mystical things happening to him. She told me, among other things, about his bleeding stigmata (which lasted for 50 years). My mother mentioned that a few people in my home town had written to him and had received letters from him answering their questions and that miracles had occurred. My mother always said that if I was in danger or felt fear that I should invoke Padre Pio. When my sister was very sick, dying in the hospital, we would pray Padre Pio's prayer, it brought great peace to us. She passed away July 15, 1991. About two months later, I walked into my kitchen and the smell of vanilla was overwhelming. I was upset because I thought my expensive vanilla bottle had somehow broken; when I checked the bottle, it was intact. The smell of vanilla was very strong for about 15 minutes. I phoned my mom to ask her who leaves the smell of vanilla and she immediately said Padre Pio. She explained that friends of hers, years before, had had a very sick child. They were in the process of reading a book about Padre Pio at the time. They too could smell vanilla. After checking their vanilla bottle, which also was intact, they continued reading their book. The very next sentence they read was… "I will make my presence known with the scent of vanilla, tobacco, lilacs and roses". I never forgot this. When my ministry took me to Montreal, a woman asked if I would phone her once I returned home. I did and she told me she had been friends with Padre Pio. She saidshe knew him quite well and that she would send me something that he had given to her—thus the picture I am holding in my hand. As I was scrutinizing this picture, I said out loud, "Padre Pio... It must have been so painful". As I said those words, his image became clear to me in the picture. I had never noticed this before. If you will notice, it is at the base of his thumb. Since that time, I have had many experiences with either these different aromas. The most recent experience happened in Medjugorje. I met another woman who had been friends with Padre Pio and the lady who took care of his things. Know that they all knew he was a mystic and that they never threw anything away. In her later years that same lady gave many things away. The woman I met had a piece of Padre Pio's corporal on which his stigmatas had bled and she also had a piece of his sash. She gave me a little piece of both these items. Later that week I was praying with an Irish man. I was holding the relic of Padre Pio as I prayed. There were several people present, but only four of us could smell vanilla. Several times, we have noticed these smells. One woman walked up my driveway on a cold December evening about 5 years ago and swore that she could smell a lot of vanilla. She wasn't even familiar with Padre Pio, and was not Catholic. That night I told her a bit about him and told her to read his biography. That woman is now a devout Catholic and attends my weekly prayer meetings. Different people smell different aromas. I believe the lady who gave me the picture, always smells lilacs and many have also told me they smell sweet tobacco. Thank you, Padre Pio for making your presence known.
"Pray, pray to the Lord with me, because the whole world needs prayer. And every day, when your heart especially feels the loneliness of life, pray. Pray to the Lord, because even God needs our prayers." - St. Pio
"I have often raised my hand in the silence of the night and in my solitary cell, blessing you all and presenting you to Jesus and to our father, St. Francis of Assisi"
About his spiritual children… He said that he would gladly stay at the threshold of Heaven until all his spiritual children have entered.
O Glorious Saint Pio, bearing the wounds of Christ you generously accepted your sufferings, and labored faithfully for the good of all souls. Help me to embrace that same attitude of acceptance in my life.
With confidence, I ask for your intercession to obtain the grace of my prayer request, which I ardently desire. if it is not, however, God's will that this should come to pass, then help me to find serenity and joy in God's choices for me. Amen
What I heard was that Padre Pio had a gleam in his eyes. The love of Christ apparent to everyone.
When my sister was very ill with cancer, I stumbled upon a prayer he had written. Here is that prayer…
Stay with me, Lord
Prayer of St. Pio of Pietrelcina after Holy Communion
Stay with me, Lord, for it is necessary to have You present so that I do not forget You.
You know how easily I abandon You.
Stay with me, Lord, because I am weak and I need Your strength, that I may not fall so often.
Stay with me, Lord, for You are my life, and without You, I am without fervor.
Stay with me, Lord, for You are my light, and without You, I am in darkness.
Stay with me, Lord, to show me Your will.
Stay with me, Lord, so that I hear Your voice and follow You.
Stay with me, Lord, for I desire to love You very much, and always be in Your company.
Stay with me, Lord, if You wish me to be faithful to You.
Stay with me, Lord, for as poor as my soul is, I want it to be a place of consolation for You, a nest of love. Stay with me, Jesus, for it is getting late and the day is coming to a close, and life passes; death, judgment, eternity approaches. It is necessary to renew my strength, so that I will not stop along the way and for that, I need You. It is getting late and death approaches, I fear the darkness, the temptations, the dryness, the cross, the sorrows. O how I need You, my Jesus, in this night of exile!
Stay with me tonight, Jesus, in life with all it's dangers. I need You.
Let me recognize You as Your disciples did at the breaking of the bread, so that the Eucharistic Communion be the Light which disperses the darkness, the force which sustains me, the unique joy of my heart.
Stay with me, Lord, because at the hour of my death, I want to remain united to You, if not by communion, at least by grace and love.
Stay with me, Jesus, I do not ask for divine consolation, because I do not merit it, but the gift of Your Presence, oh yes, I ask this of You!
Stay with me, Lord, for it is You alone I look for, Your Love, Your Grace, Your Will, Your Heart, Your Spirit because I love You and ask no other reward but to love You more and more.
With a firm love, I will love You with all my heart while on earth and continue to love You perfectly during all eternity. Amen
The Guardian Angels
See, I am sending an angel before you, to guard you on the way and bring you to the place I have prepared. Be attentive to him and heed his voice. Do not rebel against him, for he will not forgive your sin. My authority resides in him. If you heed his voice and carry out all I tell you, I will be an enemy to your enemies and a foe to your foes. (Ex 23:20-22)
See that you do not despise one of these little ones, for I say to you that their angels in heaven always look upon the face of my heavenly Father. (Mt.18:10)
Francesco, named in honor of St. Francis of Assisi, was born to Giuseppa and Grazio Forgione, peasant farmers, in the small Italian village of Pietrelcina on May 25, 1887. From his childhood, it was evident that he was a special child of God. Francesco was very devout even as a child, and at an early age felt drawn to the priesthood. He became a Capuchin novice at the age of sixteen and received the habit in 1902. Francesco was ordained to the priesthood in 1910 after seven years of study and became known as Padre Pio.
On September 20, 1918, Padre Pio was kneeling in front of a large crucifix when he received the visible marks of the crucifixion, making him the first stigmatized priest in the history of Church. The doctor who examined Padre Pio could not find any natural cause for the wounds. Upon his death in 1968, the wounds were no longer visible. In fact, there was no scaring and the skin was completely renewed. He had predicted 50 years prior that upon his death the wounds would heal. The wounds of the stigmata were not the only mystical phenomenon experienced by Padre Pio.
The blood from the stigmata had an odor described by many as similar to that of perfume or flowers, and the gift of bilocation was attributed to him. Padre Pio had the ability to read the hearts of the penitents who flocked to him for confession which he heard for ten or twelve hours per day. Padre Pio used the confessional to bring both sinners and devout souls closer to God; he would know just the right word of counsel or encouragement that was needed. Even before his death, people spoke to Padre Pio about his possible canonization. He died on September 23, 1968 at the age of eighty-one. His funeral was attended by about 100,000 people.
On June 16, 2002, over 500,000 Padre Pio devotees gathered in Rome to witness Pope John Paul II proclaim Padre Pio, Saint Pio of Pietrelcina. Many benefactors traveled to Rome, to celebrate Padre Pio's Canonization.
Pope John Paul II - Homily at the Canonization of Saint Pio of Pietrelcina, Capuchin Priest - 16 June 2002
1. "For my yoke is easy and my burden light" (Mt 11,30).
Jesus' words to his disciples, which we just heard, help us to understand the most important message of this solemn celebration. Indeed, in a certain sense, we can consider them as a magnificent summary of the whole life of Padre Pio of Pietrelcina, today proclaimed a saint.
The evangelical image of the "yoke" recalls the many trials that the humble Capuchin of San Giovanni Rotondo had to face. Today we contemplate in him how gentle the "yoke" of Christ is, and how truly light is his burden when it is borne with faithful love. The life and mission of Padre Pio prove that difficulties and sorrows, if accepted out of love, are transformed into a privileged way of holiness, which opens onto the horizons of a greater good, known only to the Lord.
2. "But may I never boast except in the cross of Our Lord Jesus Christ" (Gal 6,14).
Is it not, precisely, the "glory of the Cross" that shines above all in Padre Pio? How timely is the spirituality of the Cross lived by the humble Capuchin of Pietrelcina. Our time needs to rediscover the value of the Cross in order to open the heart to hope.
Throughout his life, he always sought greater conformity with the Crucified, since he was very conscious of having been called to collaborate in a special way in the work of redemption. His holiness cannot be understood without this constant reference to the Cross.
In God's plan, the Cross constitutes the true instrument of salvation for the whole of humanity and the way clearly offered by the Lord to those who wish to follow him (cf. Mk 16,24). The Holy Franciscan of the Gargano understood this well, when on the Feast of the Assumption in 1914, he wrote: "In order to succeed in reaching our ultimate end we must follow the divine Head, who does not wish to lead the chosen soul on any way other than the one he followed; by that, I say, of abnegation and the Cross" (Epistolario II, p. 155).
3. "I am the Lord who acts with mercy" (Jer 9,23).
Padre Pio was a generous dispenser of divine mercy, making himself available to all by welcoming them, by spiritual direction and, especially, by the administration of the sacrament of Penance. I also had the privilege, during my young years, of benefitting from his availability for penitents. The ministry of the confessional, which is one of the distinctive traits of his apostolate, attracted great crowds of the faithful to the monastery of San Giovanni Rotondo. Even when that unusual confessor treated pilgrims with apparent severity, the latter, becoming conscious of the gravity of sins and sincerely repentant, almost always came back for the peaceful embrace of sacramental forgiveness. May his example encourage priests to carry out with joy and zeal this ministry which is so important today, as I wished to confirm this year in the Letter to Priests on the occasion of Holy Thursday.
4. "You, Lord, are my only good".
This is what we sang in the responsorial psalm. Through these words, the new Saint invites us to place God above everything, to consider him our sole and highest good.
In fact, the ultimate reason for the apostolic effectiveness of Padre Pio, the profound root of so much spiritual fruitfulness can be found in that intimate and constant union with God, attested to by his long hours spent in prayer and in the confessional. He loved to repeat, "I am a poor Franciscan who prays" convinced that "prayer is the best weapon we have, a key that opens the heart of God".
This fundamental characteristic of his spirituality continues in the "Prayer Groups" that he founded, which offer to the Church and to society the wonderful contribution of incessant and confident prayer. To prayer, Padre Pio joined an intense charitable activity, of which the "Home for the Relief of Suffering" is an extraordinary expression. Prayer and charity, this is the most concrete synthesis of Padre Pio's teaching, which today is offered to everyone.
5. "I bless you, Father, Lord of heaven and earth, because ... these things ... you have revealed to little ones" (Mt 11,25).
How appropriate are these words of Jesus, when we think of them as applied to you, humble and beloved Padre Pio.
Teach us, we ask you, humility of heart so we may be counted among the little ones of the Gospel, to whom the Father promised to reveal the mysteries of his Kingdom.
Help us to pray without ceasing, certain that God knows what we need even before we ask him. Obtain for us the eyes of faith that will be able to recognize right away in the poor and suffering the face of Jesus.
Sustain us in the hour of the combat and of the trial and, if we fall, make us experience the joy of the sacrament of forgiveness.
Grant us your tender devotion to Mary, the Mother of Jesus and our Mother.
Accompany us on our earthly pilgrimage toward the blessed homeland, where we hope to arrive in order to contemplate forever the glory of the Father, the Son and the Holy Spirit.
Amen.